Trophy Pools uses only the best pool and spa equipment,  we are proud to use an extensive line of products from Jandy, Polaris and Zodiac.
Jandy
Build the perfect pool environment with Jandy professional-grade swimming pool equipment. With a full line of pumps, filters, heaters, lights, valves, water sanitizers, and the automation solutions to control it all, Jandy has the complete equipment package for any swimming pool or spa.
Polaris
For more than 40 years, Polaris has been known worldwide for its quality and best-in-class cleaning power. This visionary class of pool cleaners has become the benchmark against which all others are measured. Focused on premium engineering, rugged construction, and reliability, Polaris pool cleaners are built to last and are proven to clean where others can't.
Zodiac
With a 100-year legacy of innovation and industry-leading engineering team behind it, Zodiac delivers quality-designed products under the following leading brands: Polaris®, Jandy®, Zodiac,® Cover-Pools, iAqualink, and Nature2. Our products are the most technologically advanced, energy-efficient, durable, and reliable pool and spa products available.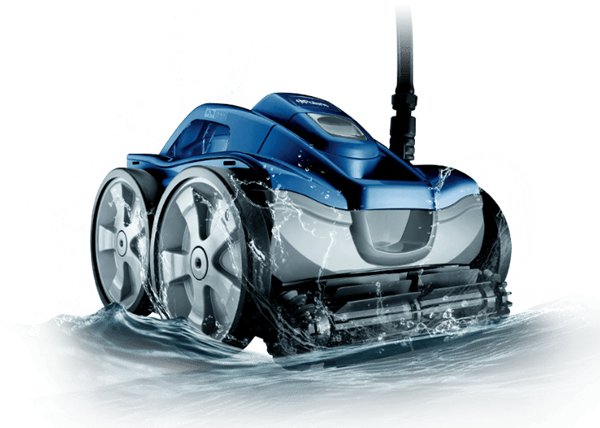 POLARIS QUATTRO™ SPORT
DEBRIS DOESN'T STAND A CHANCE
Designed to devour debris, the Polaris® Quattro™ Sport boasts 4WD agility to aggressively climb walls and brush the waterline. Even acorns, leaves and pebbles don't stand a chance thanks to its extra-large intake. And with dual-stage filtration, this cutting-edge pressure-side cleaner collects both fine and large debris into an easy-clean canister with a transparent window. Powered by a booster pump, the Quattro Sport is ideal for all in-ground pool surfaces.